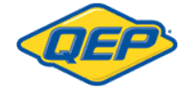 Company Profile
QEP Co., Inc. was founded in 1979 and is a world class provider of innovative, quality, and value-driven flooring, industrial and building materials solutions. The first QEP branded tiling product was a "Do-It-Yourself" Bathtub Edging Kit. In 1981, this Bathtub Edging Kit was picked up by a small 6 store "home improvement" chain called The Home Depot, quickly opening the doors of opportunity for QEP in the tile tool market. Over 30 years later, QEP has become an established and recognized brand, specializing in installation tools and accessories for tile, porcelain and natural stone. Today, QEP products could be found in over 80 countries worldwide.

In 1994 annual sales reached over 10 million dollars and in 1999 expansion continued and QEP reached the Australian waters, introducing QEP Australia. QEP has worldwide service and supply options as well as direct sourcing and supply programs. QEP also has a dedicated China office for full sourcing requirements. QEP continually introduce new and innovative products that address the challenges of today's market.

QEP
1300 737 155
68 Prosperity Way, Dandenong South, 3175
* If you would like to update the text on your profile page, please contact Spec-Net.