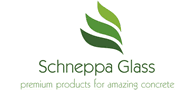 Company Profile
Schneppa Glass™ is a specialist supplier in the field of environmentally friendly recycled glass products and premium grade photo-luminescent stones. Starting off as a supplier of recycled crushed glass, Schneppa Glass™ has expanded its range of quality products, which now include Mirror Glass, Fire Glass, Glass Landscaping Rocks and PolyGlow™ Glow in the Dark Stones.

We source only the finest quality aggregates from within Australia and around the world. We cater for all sized order requirements, from small domestic jobs to large commercial builds. If you are looking for a particular glass or glow product that we do not have listed - let us know and we will see if we can source it for you.

An Australian owned and run business operating in Melbourne, Victoria, we offer Australia wide delivery on all our products. Alternatively, orders may be picked up from our showroom, conveniently located in Burwood, Victoria.
Schneppa Glass
0427 939 602
1/12 Windsor Rd, Croydon VIC 3125
* If you would like to update the text on your profile page, please contact Spec-Net.