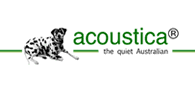 Company Profile
Acoustica® is a 100% Australian owned company engaged in research, development, manufacture, sale, export and licensing of leading technology sound control and abatement systems.

For all your soundproofing requirements, we have acoustic products and solutions for you!

We manufacture barriers and absorbers for noise control in walls, ceilings, floors, roofs and waste water pipes. We also provide and install custom noise absorbing decorative wall and ceiling treatments.

A comprehensive range of soundproofing and vibration damping products are available for marine, automotive and industrial applications.

Be it residential, commercial, industrial acoustic and thermal insulation – talk to us about your difficult requirements where 'off the shelf' products and processes are no more than a compromise, we can custom engineer a solution for you.


Acoustica
1300 722 825
Ground Floor, 6A Nelson Street, Annandale, NSW, 2038
* If you would like to update the text on your profile page, please contact Spec-Net.