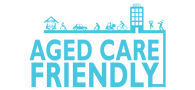 Company Profile
Aged Care Friendly is focused on inspiring the design and construction of environments suitable for elderly and less mobile people. Covering a wide range of challenges faced across the aged care industry including medical care, access to care, and other challenges faced by older people and their families many of which can be addressed by the design of spaces, services, technology and solutions.

The Aged Care Friendly Shop sells a wide range of mobility equipment and assistive technology for individuals and institutions.
Aged Care Friendly
1300 324 070
Kent St, Sydney, 2000
* If you would like to update the text on your profile page, please contact Spec-Net.