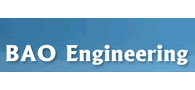 Company Profile
When it comes to EASYSTAIR, a pre-fabricated all steel permanent formwork system, we are the people to see.

To meet the demand for formwork, BAO use the EASYSTAIR to form up concrete staircases.

EASY STAIR is a registered design. It consists of steel risers, stringers, reinforcement and soffit. Its handrails consist of 50 OD top rail and post, 2 x 33 OD mid-rails. The handrails are bolted to outside of stringer and return bend is fixed after stair flight installed.

The products of BAO Engineering have been used in construction industry for more than fourteen years.
Bao Eng Pty Ltd
03 9793 5499
52 - 56 Williams Road, Dandenong, VIC, 3175
* If you would like to update the text on your profile page, please contact Spec-Net.