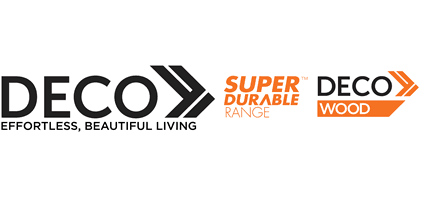 Company Profile
DECO Australia is a leader in the Australian market for photo imaging (sublimation) finishing technology for aluminium. DECO specialises in a range of quality aluminium building products and durable decorative finishes for effortless, beautiful living. DecoWood is their premium textured woodgrain powder coating finish suitable for a wide range of aluminium products including cladding, battens, decking, windows & doors, plus fences & gates. It creates a super durable, low-maintenance timber alternative, resolving common issues associated with real timber. Other finishes available include marble-look, rust-look, and the newly launched concrete-look finish DecoCrete.

DecoArt precisely sublimates custom images and designs into powder coated aluminium extrusions, shapes, flat, and perforated sheets. The result is a UV-stable, low maintenance and anti-graffiti finish ideal for kitchen splashbacks, retail systems, decorative panels, and signage. DECO also offers a range of expertly-designed architectural building products including DecoClad, DecoBatten, DecoSlat, DecoDeck and DecoPanel.

DECO is proudly an Australian owned and operated family business.
DECO Australia
(02) 9603 1888
67-77 Airds Road, Minto, NSW, 2566
* If you would like to update the text on your profile page, please contact Spec-Net.