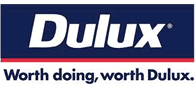 Company Profile
For generations homeowners, trade professionals, architects and specifiers have relied on products from Dulux.

Dulux is a manufacturer and marketer of products that protect, maintain and enhance the spaces and places in which we live and work.

Your home or office or factory; the machinery or oil rig you work on; the cars we travel in or the timber deck we entertain on; Dulux products are often there doing their job.

Our range includes Powder Coatings, Protective Coatings, Acratex Textured Coatings and Systems, Woodcare Products and Automotive Refinish Coatings.

Dulux has always been committed to understanding the needs of its end users and as a result has developed market leading positions in a wide range of building and home improvement categories.

Investment in world-class technology, and research and development facilities, underpins Dulux's success. Products are produced to the highest quality standards, and we are committed to providing innovative product solutions that satisfy the needs of our customers today and into the future.
Dulux Paints
03 9263 5678
Call for address
* If you would like to update the text on your profile page, please contact Spec-Net.