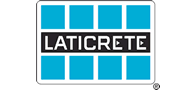 Company Profile
At LATICRETE we have manufactured and marketed materials, methods and solutions for installing ceramic tile and stone for 60 years. Laticrete materials are maintenance free and are guaranteed to perform in all conditions. The Laticrete range includes ceramic tile adhesives, stone adhesives, waterproofing membranes, stainless grouts and tile cleaners.

60 years of LATICRETE history is shaped by numerous industry firsts. Among the many pioneering achievements, Laticrete is the first in the tile and stone installation industry to:
◾Create thin-set adhesives
◾Create thin, load-bearing waterproofing membranes
◾Develop sound & anti-fracture one step adhesive
◾Offer warranties inclusive of material and labour
◾Industry leading technical services & support
◾Include antimicrobial protection in products
◾Greenguard and low VOC certification

Laticrete offers a dedication to quality that results in globally proven solutions for virtually every application.

Laticrete Pty Ltd
1800 331 012
29 Telford Street, Virginia, Qld, 4014
* If you would like to update the text on your profile page, please contact Spec-Net.