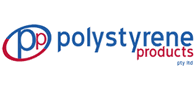 Company Profile
Polystyrene Products Pty Ltd is an Australian leader in the manufacture and supply of all your polystyrene and polyurethane requirements.

Many of our customers are creative teams from movie sets who use polystyrene in unimaginable yet highly creative ways.

House design can be enhanced by the addition of polystyrene shapes, laser cut and waterproofed for longevity.

The uses of this wonderful product are only limited by your imagination.
Polystyrene Products
07 3345 9399
3/130 Ingram Road, Acacia Ridge, Qld, 4110
* If you would like to update the text on your profile page, please contact Spec-Net.