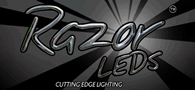 Company Profile
Power efficiency is only one reason to use Razor LEDs over traditional lighting. The reliability and safety factors are a big contributing factor as to why LEDs are much more advanced. CFL (fluorescent) lights not only contain mercury (when they break the toxic mercury spreads) but the light itself emits extremely high levels of electromagnetic radiation. Electromagnetic radiation can make people very sick.

Razor LEDs run at a very cool temperature comparative to CFLs and Halogens, so cool that you can change a regular bulb after it has been on for hours. This is another reason why cooler temperature LEDs are so safe, because fires can be caused from elements around hot traditional bulbs such as poor quality insulation & ceiling litter.

Razor Leds are suited everywhere from houses, buildings, signs, shopping centres, tunnels, roads, vehicles, water features and decorative lighting. Be a part of the future and start making the switch.
Razor LEDs
07 3390 6180
Unit 9, 17 Rivergate Place, Murarrie, Qld, 4172.
* If you would like to update the text on your profile page, please contact Spec-Net.