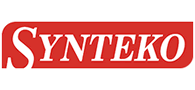 Company Profile
Since the 1950's Synteko has specialized in timber floor finishes for the professional floor sander and the most demanding clients. Synteko has provided a comprehensive range of high quality floor finishes and maintenance products for all kinds of timber floors, from traditional solvent based finishes through to natural oil based coatings to environmentally friendly waterbased finishes.

For more than quarter of century Synteko has been at the leading edge of waterbased technology, always giving priority to the environment. Recognition of this commitment, by Synteko, is evident by being the first coating company to obtain both the ISO 14001 and ISO 9001 certificates in 1996, for Environmental Management systems.

Synteko's advanced waterbased floor finish technology results in low VOC, and when coupled with the Galaxy dust containment system, provide the highest quality material and environmentally friendly floor finishing system. Synteko provides the easy-to-work with timber floor coating system that flooring professionals turn to for beauty, durability, affordability without compromising the health and safety of the professional floor sander and his client.

Synteko Pty Ltd
02 9406 8100
19/380 Eastern Valley Way, Chastwood, NSW, 2067
* If you would like to update the text on your profile page, please contact Spec-Net.