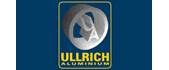 Company Profile
Ullrich Aluminium produces a vast range of aluminium products for marine, industrial, commercial, domestic and designer applications. Ullrich Aluminium is among the advance guard of a new technology... Improvements in aluminium metallurgy, quality, and finish promise to revolutionise this industry.

Ullrich produce architectural systems, cladding, wintec ulltraclad, fasteners, ladders & scaffolding, seating systems, security door systems, standard products, walkway systems, wintec doors and windows, aluminium castings, aluminium extrusions, aluminium finishes, aluminium ladders, decorative metals, fabricated aluminium, machinery, marine products, sheet, plate and roll formed aluminium and welding products.
Ullrich Aluminium
02 8787 7400
185-187 Woodpark Road, Smithfield, NSW, 2164
* If you would like to update the text on your profile page, please contact Spec-Net.