SNAP-TEX Stretched Fabric Panel System from AH Décor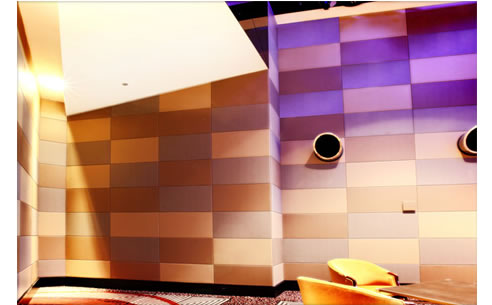 Features & Benefits
SNAP-TEX track is a co-extrusion 'pvc' with unique twin features, interlocking jaws and ever flexible hinge. These features allow for unlimited flexing for ease of installation, while the interlocking, bias tensioned jaw allows for superior fabric grip.
This feature is especially important over time, as competitive "friction fit systems" tend to relax. Friction fit systems are prone to fabric pulling out due to pedestrian hand pressure, as well as the hand and equipment pressure applied in the cleaning process.
Fabric can be stretched as tightly as needed with no slippage. Single panels measuring over 30metres have been successfully installed. Because the fabric is not adhered to the substrate as in pre-manufacture panels, a SNAP-TEX installation can be cleaned using traditional upholstery cleaning methods.
SNAP-TEX stretched fabric panel system has all the following features:
Damage resistant components require no maintenance
No limit to the size or shape of panel
Perfect tolerance around all architectural situations
No gaps, sagging or mis-fitting fabric
Conforms to concave & convex curves
Easy and economical 'Fabric Replacement', with no damage to the mounted track
Fabric can be cleaned on site, or removed for external cleaning then refitted.
Flexibility in design allows economies in panel configuration
When planning the design, work to the following axiom - "the bigger the panel, the less SNAP-TEX, the more economical the design"
Decorative trims can be easily incorporated into the design
Most durable in public areas - DOES NOT PULL OUT UNDER PEDESTRIAN PRESSURE
Inherently impact resistant
Accepts a wide range of fabric thicknesses.
Materials & Finishes
PANELIZED SECTIONS ARE NOT NECESSARY WHEN USING SNAP-TEX.
The unique holding and stretching power of SNAP-TEX track allows for large areas of fabric to be installed. Fabric can b sewn together or railroaded. SNAP-TEX easily handles the latest broad loom 4.8 & 9.6 metre fabrics.
SNAP-TEX:
Accepts a broad range of fabrics
Can be battened to achieve required depth
Various substrates can be used - the most common being polyester dacron, flexible foam rubber, compress fibre products, tackable surfaces - cane-ite & cork
Integration of any edge detail - round, square and beveled in a single panel
Attractive edge trims, reveals and lighting can be used in conjunction with the panels.