Standard Welcome Mats from The General Mat Company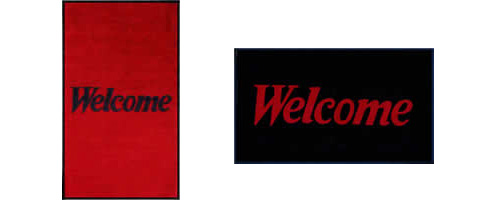 Features and Benefits
Message mats capture 80% of the dirt, dust & moisture.
They also provide employees with a valuable reminder of Quality & Safety.
100% nylon static dissipative pile resulting in outstanding dirt and moisture pick up.
State of the art Ink Jet Print technology giving high definition with bright & vibrant colours.
100% Nitrile rubber backing ensures the mat lays flat and does not curl or cockle.
Welcome Mats
Why not double the value of your service by providing a welcome mat that not only provides cleaner safer floors but delivers a welcome message to staff and visitors alike.
Mat Specifications
Uses: Interior, exterior entrances
Surface Fibre: 100% Nylon/fully launderable
Backing: 100% nitrile rubber
Warranty: 3 years
Colours: Red with Black writing or Black with Red writing
For 25% off and a free catalogue please fill in the enquiry form