Sandstone Tiles & Pavers Melbourne by Edwards Slate & Stone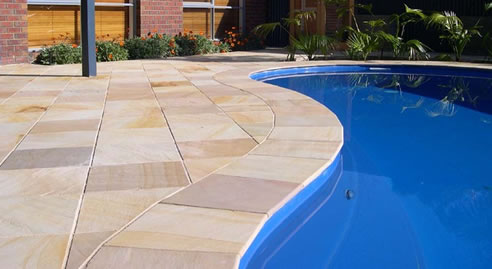 Sandstone is a sedimentary rock composed of silica (sand) with minerals or rock grains. When sandstone has been compressed over a period of time, by natural geological pressure, it forms a relatively dense structure, making it suitable for use in commercial and domestic buildings.
Essentially there are two types of sandstone used in the building industry. The first is a laminated type of sandstone that has a natural splitting plane. This type of sandstone can be split into various thicknesses suitable for tiles, using small chisels. The second type of sandstone does not have any splitting plane and must be cut on all sides using a diamond saw, to form a tile.
Naturally split sandstone is more efficient to produce and thus is reflected in a lower price. It has a textured surface and retains excellent non-slip characteristics and is therefore suitable exterior areas including pool surrounds as well as interior areas. Unlike most man made products, sandstone does not fade due to the natural minerals which make up its colour. Sandstone can vary in colour from light pastel colours to rich ocher colours.
The thickness of sandstone can vary according to how it has been split or cut. Uncalibrated sandstone typically varies between 10 - 20mm. This type of sandstone is graded into the varying thicknesses by the tile layer prior to laying. Calibrated sandstone has been sawn to minimise the thickness variation between tiles, and this allows more rapid fixing by the tile layer.