Commercial Textile Matting Apex Plus™ from Milliken Design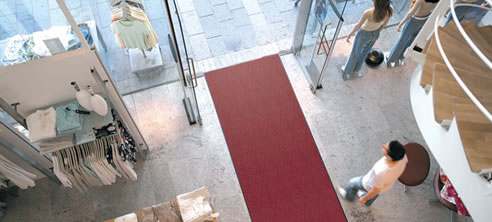 Apex Plus™
Superior Value Matting
Apex Plus is designed for low- to moderate-traffic applications, such as circulation areas and entryways. Delivering the dust control and moisture absorption that you have come to expect from high quality textile mats, Apex Plus is the perfect choice when value is a priority.
Milliken's patented Millitex® technology carves out a scraping pattern in the textile that removes dirt more aggressively, enhancing its performance, while providing a style not currently available in the market. Our high quality Everwear™ vinyl backing makes it easy to cut into desired lengths to convert into custom mats or runners. It is also easy to bond when installed wall-to-wall.
Apex Plus™ provides superior value in textile matting by delivering great performance at an affordable price.
The non-woven polypropylene construction absorbs moisture and collects dust and dirt like no other mat at a comparable price point.
The Millitex® pattern carving technology creates tough scapers against dirt particles in an attractive blend of pattern and color.
The solution dyed polypropylene pile provides superior protection against fading.
For further product information contact Peter Cudmore at Milliken Mats on +61 (0) 418 840 084 or email peter.cudmore@milliken.com