Contemporary Modular Exterior Walls from Modular Wall Systems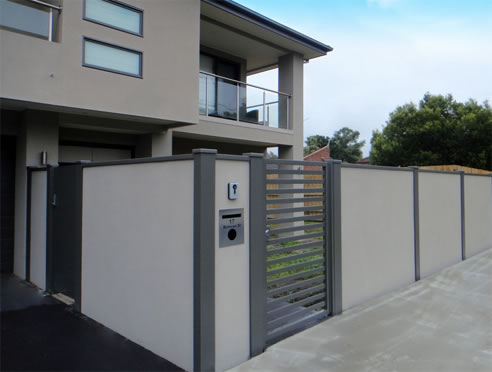 Contemporary wall is the most cost effective wall option.
It's most common applications are for Boundary Walls, Screening or Privacy Walls and Feature Walls. We have some beautiful examples of taller front walls too.
Contemporary Walls use a 40mm thick wall panel with a post width (across the face) of 150mm and a post depth of 100mm.
Its maximum wall height is 2.1 metres with Panel Spans/Post Centres of 2.5m or 2.8m.
Offers Great Noise reduction qualities.
Ideal for those 'tight spaces'.
A near flush finish across post and panel profiles.
Add lighting, gates or electrical cabling as desired.
Rated for all Wind Regions in Australia. Specific installation instructions will be supplied for Cyclonic regions.