NEWS ARTICLE ARCHIVES
The Ellisse open vanity unit from Imperial Ware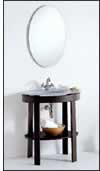 The Ellisse open vanity unit is an exciting addition to the collection by Imperial Ware.
Handcrafted in Italy, this piece was crafted with elegance in mind. The combination of the cool translucence of the glass, & the warmth of the natural wood, create a stunning, contemporary effect.
The Ellisse is available in either a Wenge or Light Oak finish. The wash basin is in a star-fire molten glass sandblasted finish.