Carport Design and Construction from Pergola Land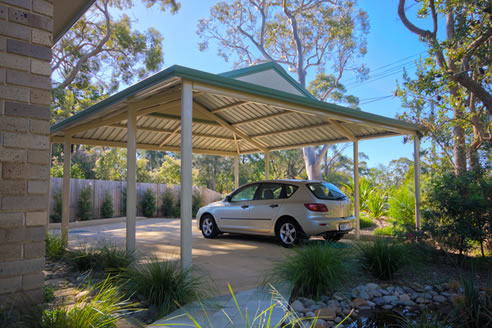 Your car is usually your second-biggest investment (after the house). Like any investment, it needs protection if you wish to get the maximum enjoyment and return from it.
Rain, hail or shine, the mail will get through... meanwhile, you can be sure that these same atmospheric conditions are wreaking havoc on your car's paint job! Put the effect of weather extremes, tree sap, branches and low-flying birds behind you by protecting your car the same way you protect yourself...with the house! Your car gets its own economical, functional roof under the protection of a Pergola Land carport.
Does your home has distinct character lines? Our designers will take these features and duplicate them in the design of your new carport, to match the original architecture. Our ability to design and build carports that enhance the existing home is what sets Pergola Land apart from the rest.
Pergola Land are the experts in pergolas, patios and carports. For tailored outdoor living look no further than our large range of customized pergolas, sail shades, sun louvres, opening roofs, awnings, decking and privacy screens. Let's talk about your dream structure! Contact Us about our carport designs and more, or visit our showroom at 361 Pennant Hill Rd, Pennant Hills SYDNEY today!