Portable Deadweight Anchor from Solid Dynamics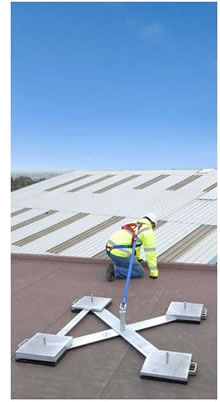 We offer Kee Anchor® - a modular dead weight anchor fall prevention system is designed for use where there are no permanent guardrails or other anchor devices, to be used with Personal Protection Equipment (PPE).
The system is quick and easy to handle due to its modular construction. By using individual, smaller components, our range of roof anchor devices are much easier to lift and carry to and from a point of use; a basic system weights only 250Kg, with no single item weighting more than 25Kg.
WEIGHTANKA is a mobile, deadweight anchor device for use on roofs up to 5 degree pitch, where the installation of collective protection or permanent anchor devices is not viable. WEIGHTANKA utilises a central pedestal (attachment point) which raises the height at which the arrest force is applied, thus reducing the distance the anchor device moves during a fall arrest event. The system conforms to Australian Standards.
Call Solid Dynamics today on 1800 789 098 and we will provide you with a Weightanka Solution.