Stone Panel Fixing System with StoneClip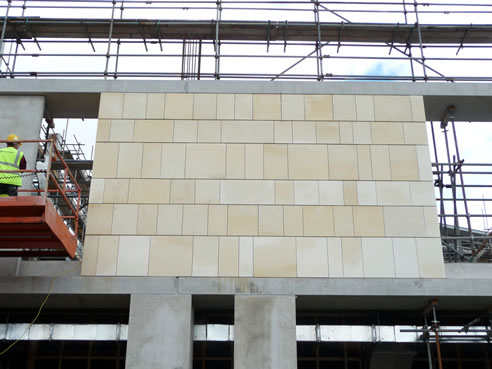 The project at the University Plaza Building in Dunedin has started and as the photo shows the first of many walls has been erected. The stone used is 80 mm thick Ormaru Limestone secured from Parkside Quarries at Ormaru.
The panel sizes which are erected in vertical format vary from 300 mm to 1000 mm wide and in course heights of from 450 to 750 mm. Every stone panel has 2 only 12 mm x100 mm shock clips securing it top and bottom with 60 mm screw bolts into the concrete precast panels and because of the random configuration of the panel sizes means that the clip placement has to be marked out separately on every panel. There is an average of 7 only Stoneclips supporting each m2 , which means that each clip is only carrying 17 kgs/ clip dry weight at 40 mm cavity but it could be a potential 34 kgs/ clip when and if the wall were to get saturated. This is still a safety margin of 100% on the loading capability of each clip.
The installation started on Saturday 6/2/11 under the supervision of Mr John Redhead of Stoneclip.com who was advising for and on behalf of Mr John Bousie of Carpet Court Dunedin. The engineer (Mr Bruce Chisholm) of Hanlon & Partners of Dunedin, is the person who signed off the installation is being undertaken to the expected standard by the installers. This first section is around 38 m2 and is only a fraction of the finish area of 1800 m2. The expected finishing date is mid year 2011.