Miniature Electronic Cam Lock from Keywatch Systems QLD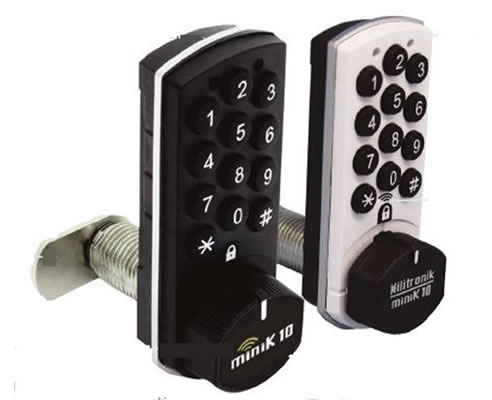 NFC Technology now available MiniK10
miniature electronic cam-lock from KSQ
KSQ announce the release of their new MiniK10 miniature electronic cam lock that features the latest NFC (Near Field Communication) technology for wireless management of locker and cabinet locks. The new MiniK10 NFC joins the stable of KSQ's other MiniK10 locks that include; a MiniK10P with 125KHz compatible RFID Prox Cards, Fobs or Wristbands, a MiniK10M Mifare Card model and a MiniK10 standard PIN model.
The new MiniK10 NFC model offers remote programming of locks via an NFC compatible Android Smartphone or Tablet and the free MiniK10 Hopinlock management App from KSQ. The MiniK10 App eliminates individual programming of lock setting via the numeric keypad enabling lock administrators the ease of programming hundreds or thousands of locks with the convenience of a wireless handheld Android device. The App provides settings for changing the Master and Supervisor override codes, setting the lock mode for either Public One-Time Users or Permanent Users, muting keypad sounds, enabling/disabling users with access to code changes and remote unlocking.
Because of the NFC technology the MiniK10 lock can pre-programmed whilst still in the box making onsite installation time even less and without even initialising the battery. MiniK10 lock is the smallest electronic cam-lock in the world and features a slimline design that can be either surface mounted or semi-flush mounted.
It is the perfect and affordable solution for upgrading and replacing your clumsy, problematic key-operated cam locks or battery consuming code locks that are all 'yesterdays' technology. Because MiniK10 actually is a true cam lock it easily retrofits conventional cam locks minimising costly labour costs for locker door modifications to accept alternative locks. By simply removing your conventional cam lock you can fit the MiniK10 lock in literally minutes, using the original lock hole.
MiniK10 offers both vertical and horizontal keypads, a choice of black or white bodies and is supplied with a Lithium battery that can last for up to 10-years. Red and Green LED's and beeper for annunciating opening and programming confirmations, an emergency external power access, cam tongue and lock nuts and fixing screw. MiniK10 will fit up to 22mm door thicknesses and offer a range of different cams for varying applications including all metal and timber lockers, cabinets and drawers.
For more info or product brochure visit www.ksq.com.au or contact via email or 0409762040 and 1800KEYPRO