Hitch Reciever Key Vault HitchSafe from Keywatch Systems QLD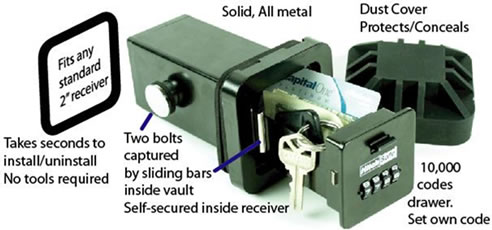 HitchSafe Vault, for security of Keys, Drivers Licence,
Credit Cards using a Hitch Tow Bar Receiver.
Ever worried about carrying your keys around, fearing the possibility of losing them when you are participating in outdoor activities? Ever had to leave your car keys somewhere safe or with someone else for other people to use your car? What do you do when you're in the back of nowhere and lose your keys or lock yourself out? Smash a window, or call a locksmith? What about when you leave cars at airports for FIFO pick-ups?
Well the answer is simple, you need a HitchSafe!
Now you can have peace of mind knowing that a spare key is at your fingertips whenever you're locked out or want to secure your keys whilst trekking, surveying, surfing, diving or participating in any outdoor activity whatsoever. HitchSafe is a sturdy alloy key-vault equipped with a 4-digit combination locked drawer that holds keys, remotes, cards or cash and fits inconspicuously into any 50mm (2") hitch-bar receiver.
The HitchSafe slides into hitch receivers and secured by two heavy-duty chrome plated tamper-resistant bolts that utilise the existing holes in your hitch bar receiver. The Hitchsafe drawer is secured within the body of the HitchSafe body and can only be accessed using a 4-digit code. After locking the drawer a heavy duty rigid dust cover snaps on to protect the HitchSafe from dust and water and disguising it to look just like any other hitch bar.
No tools are required to fit the HitchSafe which also comes with rubber spacers to accommodate variations in hole centres of some hitch bars. Certain OEM hitch bars that can have a slightly thicker wall than more common after-market models require longer locking pins if the receiver wall thickness exceeds 5mm. These are optionally available from the supplier.
HitchSafe is perfect for pool-vehicles, vehicles used in the mining industry and for anyone that enjoys outdoor activities, particularly water sports.
For more info or product brochure visit www.ksq.com.au or contact us.