KeyBank electronic key management systems from KeyWatch Systems Qld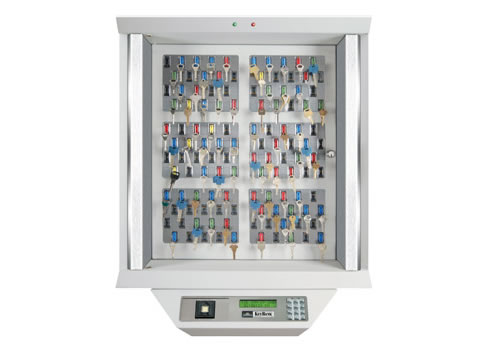 Suitable for security of low priority keys used in residential and commercial facilities, administration buildings, car dealerships, vehicle fleets, marinas and resorts.
KeyBank is an identical product to the KeyWatcher system in as much that it has all the features, functions and software operations as a KeyWatcher but excludes locking solenoids for physically retaining SmartKeys. It is supplied in identical configurations as the KeyWatcher and can also be expanded from 16 keys through to 2000 keys.
The significant difference is that the KeyBank, unlike the KeyWatcher, does not have solenoids to "physically" lock the SmartKeys into the key tag location ports. Although this means that Smartkeys can be physically removed from the cabinet it doesn't mean your security or user accountability is at all compromised.
Just like KeyWatcher users, Keybank users too are required to log-on at the KeyBank keypad or optional access control reader before they can request a key or even open the KeyBank door to remove keys.
Security.
Affordability.
Accountability and Control.
The transaction of logging on requesting and removing keys is all recorded by the KeyBank just as it is with KeyWatcher, which is then transmitted in real time to the host PC or archived to the system's memory for immediate or future audits or printed reports.
If a user requesting an authorised key happens at the same time to remove any other key from the KeyBank, an instant audible alarm will be activated both at the KeyBank cabinet and the PC monitoring the KeyBank system. Keys 'illegally' removed this way are instantly identified along with the time date and name of the user currently logged into the KeyBank cabinet Keys are attached in an identical manner to the KeyWatcher using the SmartKeys and stainless steel shackles. Alternatively you can use Quickfit SmartKeys which enable the tag to be used over and over again. Because car dealerships in particular have high turnover of keys a key management system needs to be efficient and inexpensive. This is where KeyBank and Quickfit SmartKeys combine to make the most efficient, practical and economical system available.
Unlike facilities such as prisons, casinos, universities or hospitals etc where KeyWatcher ensures the physical security of keys the KeyBank is mainly used for facilities with low priority key applications such as car dealerships, marinas and even car pools. Cost is an important factor when selecting a suitable electronic key management system and that's where KeyBank offers all the features and functions of KeyWatcher and all the accountability and control but at a significantly reduced cost.
If your facility has an application for restricting access to keys and control over their use but the need to conduct key and user audits for any given time or date, then consider the KeyBank as an economical solution to controlling and securing your keys.
KeyBank is supplied with the same features and software as the KeyWatcher system and is the perfect and more affordable key management system for low priority keys.