KeyWatcher Mini 8-Key electronic key management system from Keywatch Systems Qld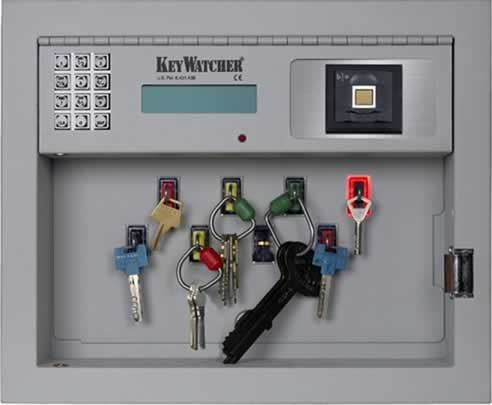 The KeyWatcher Mini-8 is essential for any business or facility where the loss or unauthorised use of priority keys is a significant threat to security. It is a quintessential tool for security and facility managers where there is no control and no accountability of keys. The most common cause of keys being lost or stolen is keys being taken off site both with and without authority. Most facilities these days are alarmed or secured in someway or another so why do security or facility managers permit high priority keys like master or sub-master keys to be taken off site by cleaners, staff and trades people? Most people who take keys home have little or no security for such responsibility and apart the consequential costs and disruption to business, key holders could quite unknowingly be targets or potential victims of crime.
The Mini-8 KeyWatcher system from KeyWatch Systems Queensland is specifically designed for security of high-profile keys in small facilities. It electronically secures up to eight individual keys or eight bunches of keys within a high security steel key cabinet that can only be accessed by authorised users. (Other KeyWatcher sizes in the range include 16, 32, 48, 64, 80 and 96 key systems)
Existing keys are simply attached without tools directly to special tamper-proof tags called SmartKeys. These have an embedded chip that enables the KeyWatcher to track the removal and return of each key or key set and records the key number and name, user's name, time and date.
It is ideally suited for;
Gaming Facilities such as Clubs and Hotels for securing and controlling poker machine clearance keys, liquor storage rooms and cool rooms.
Police Lock-ups for restricting access to cells, evidence rooms, armouries or gun cabinets.
Hospitals, Nursing Homes and Medical Centres for securing keys to drug cabinets or other restricted medicines.
Banks and Credit Unions for security of keys to bond safes and vaults.
Mines, for restricting access to specialised equipment, vehicles or explosives storage containers.
Vehicles � for small or large vehicle fleets where a number of users require temporary access to company vehicles.
Although it only holds eight bunches of keys, KeyWatcher Mini-8, like its bigger sisters, can be expanded to accommodate hundreds or even thousands of keys simply by daisy chaining 'slave' cabinets to the original cabinet. It provides stand-alone operation for up to 2000 users and can be interfaced with existing security or access control systems. User access to keys is by an alpha-numeric User ID and PIN entered at a keypad located on the front of the cabinet, which unlocks the main door and then, releases the individual key(s) requested by the user. Alternatively it can be fitted with an optional Prox or Magnetic Card reader or, for maximum security, a Biometric fingerprint reader such as the one shown in the picture. The KeyWatcher Mini-8 has a unique feature known as random key return which allows keys to be returned to any vacant location within the cabinet, avoiding pattern recognition. When keys are returned, the location is memorised by the system. When requested it is displayed in the LCD screen and also illuminated at its location within the cabinet. In the very unlikely event of a system failure, an emergency override key enables access to the rear of the internal panel to manually release keys.
The Mini-8 comes with its own Windows compatible key management software that automatically polls the system live or periodically to communicate with any PC Laptop or LAN. It can be remotely programmed and even opened to release or return keys for casual users not authorised for access. It has unlimited key and time restrictions for users allowing them access to keys within specific time windows or durations or on specific days. Other users can be granted unlimited access to keys or simply for a 'one time use only' whereas the user code is automatically deleted when the key is returned. Keys can be programmed to be released either as all keys in a group or the next available key in the group. This is very practical feature when several of the same key is required by several users simultaneously (such as poker machine attendants). It is the perfect system and management tool for controlling keys to service or fleet vehicles and invaluable for auditing use of vehicles to determine user responsibility for damages, parking fines and other traffic infringements.
Install a KeyWatcher Mini-8 in your facility and you will never loose keys again without your knowledge and never be threatened by the use or possession of keys by any unauthorised persons. The cost of the KeyWatcher Mini-8 is a fraction of the cost compared to the consequences of re-keying your facility, not to mention other potential loss or damage of your assets. At around $5,500 including GST it represents a sound investment in your security, insurance and your peace of mind.