Stamped Pattern Concrete from Designer Concrete Coatings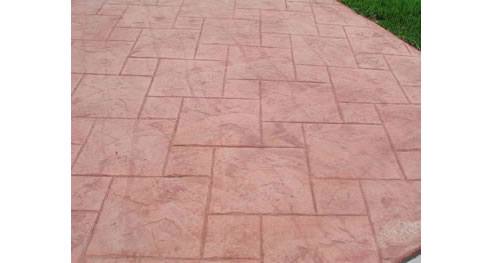 Concrete impression method
Designer concrete impression is a stamp imprint method that replicates the textures, colour features and finish of slate or stone on fresh cast-in-place concrete surfaces. The process requires six (6) basic steps to complete the work and leave a lasting and impressive look to home driveways and pathways.
Fresh concrete is cast-in-place
CMM 3000 Colour Hardener is cast and trowelled into the fresh concrete surface.
DCC Release Agent (powder or liquid) is then applied to prevent the stamp mats from sticking to the fresh coloured concrete surface.
Stamp pattern mats are then 'impressed' into the surface to replicate the style and form of stone or tile paving.
After concrete 'hard set' the release agent waste is removed and the surface cleaned.
DCC Sealer is applied for its intended purpose to aid concrete curing; and, to aid surface cleaning subject to limitations of undue influence of environment or damage and expected deterioration in time and by use and weathering.