Advanced Shallow Trench Drains for Balconies from Hydro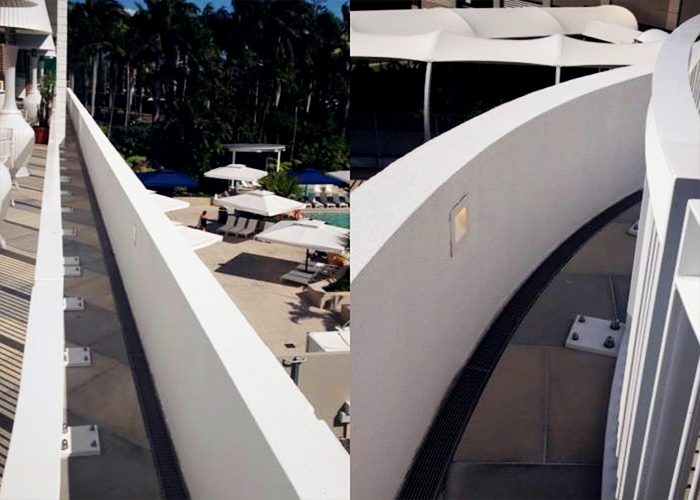 Advanced shallow trench drains are among the top-billed drainage solutions from Hydro Construction Products. They were developed and introduced to the Australian market to help builders and specifiers meet the constant regulatory changes in building drainage standards. Hydro's patented and advanced shallow trench drains are applauded in the industry because of their first-class quality and exceptional versatility, complementing almost any complex application where workable depth is limited.
Advanced Shallow Trench Drains for Balconies
A balcony is characterised as a small horizontal landing located on the exterior of a building. The platform is usually high above the ground and can project from the facade. Balconies with substandard drainage are vulnerable to leaking and moisture buildup, which can cause the platform to move or pull away from the wall. The damage can also extend to interior ceiling finishes, resulting in higher maintenance costs and increased safety risks.
Hydro's advanced shallow trench drains enable architects to overcome balcony drainage challenges. The team sources this drainage solution from MEA Group, a German company that is globally recognised for its unrivalled drainage solutions.
These advanced shallow trench drains are made of lightweight polymer concrete, allowing for easy transport, handling, and installation. They feature a shallow channel with sealable channel groove, designed to fit complex spaces with limited workable depth such as balconies. Its excellent hydraulic efficiency and zero impermeability to harmful chemicals protect the underlying structure of balconies from leakage or moisture buildup. These shallow trench drains are also available with connecting facilities for vertical discharge outlets and an interlocking joint system for the exact fitting of the channels.
Hydro stocks advanced shallow trench drains in varying depths and widths. Drains are available in a choice of edge rail protection including:
Stainless steel grates with a heelguard.
Galvanised steel with slotted, heelguard, mesh designs, or black composite grates.
Ductile iron grates with slotted or heelguard design.
A comprehensive range of grates and accessories are available from Hydro. To learn more about advanced shallow trench drains for balconies, contact Hydro Construction Products or visit www.hydrocp.com.au today.