Wall-T-Wall floor coverings and window furnishings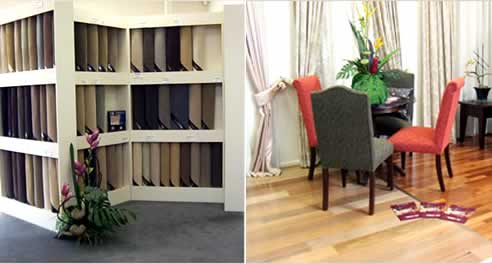 Wall-T-Wall has the latest and most extensive range of beautiful floor coverings and window furnishings - all exquisitely presented at our Ringwood showroom.
As part of the Woolset group Wall-T-Wall is able to offer a wide range of quality carpets and carpet tiles. Window furnishings are a speciality of Wall-T-Wall - whether you need drapes, blinds or curtains.
Floor Coverings - Soft
At Wall-T-Wall we have the latest fashion colours, the latest technology fabrics and the highest quality materials available in Australia today - to enhance and revitalize your new carpet or vinyl floor covering experience.
The latest wool carpets, in fashion colours to complement your décor - ultra modern, contemporary or fashionable heritage styles are all available and fastidiously presented at Wall-T-Wall.
A key feature of the Wall-T-Wall range is the vinyl floor covering collection which combines good looks with affordability for your kitchen and family areas.
Floor Coverings - Hard
At Wall-T-Wall we specialize in the latest range of hard floor coverings such as timber - both strip and laminate, all expertly laid and guaranteed by our own qualified and renowned laying team.
Wall-T-Wall has the latest materials and all of the experience and expertise to make your new timber flooring project not only a success but a real feature in your home - a feature that immediately adds value and character to any room.
We have a wide range of timbers - hardwoods and softwood, suitable for any application whether it is floating, or strip in new houses or on existing sub-structures. Our designs can create that unique flooring experience - full of character, ambiance and a living part of your home.
Window Furnishings - Drapes and Curtains
Wall-T-Wall has an extensive range of the latest fabrics, styles and decorating ideas for drapes and curtains.
Our fabrics, designs and collections are a reflection of the philosophy of Wall-T-Wall of providing a total decorating experience for our customers.
Our experienced staff are on hand to provide clients with advice and decorating ideas to enhance your window furnishing project.
Window Furnishings - Blinds
Wall-T-Wall is proud to present a beautiful range of the latest fashion window furnishings from celebrated manufacturers such as Luxaflex.
We were excited to announce the launch at our Ringwood store of the Luxaflex Blind Gallery in October 2005. Our Home maker Centre enables customers to select their blind décor and window furnishings quickly and efficiently, enabling the latest window treatments to be able to be created in their homes. This new initiative of Wall-T-Wall, with our partner Luxaflex, is another reason for visiting our showroom in Ringwood and experiencing, first hand, the range, the service and now the technology available to make your floor and window furnishings selection both enjoyable and satisfying.
Furniture
As part of our exquisite range of floor and window coverings, we have a beautiful range of complementary furniture pierces collected and presented by our design consultant - Jan Cifali.
The furniture pieces at our Ringwood store include a collection of dining tables and chairs, side and lamp tables, buffets and occasional pieces.
The furniture, whilst not large in range or diversity, is designed to complement our carpets and timber flooring, our drapes blinds and window furnishings - creating a total look, which we believe is unique in Melbourne.