Aluminium polished concrete coating by AAA Sexy Floors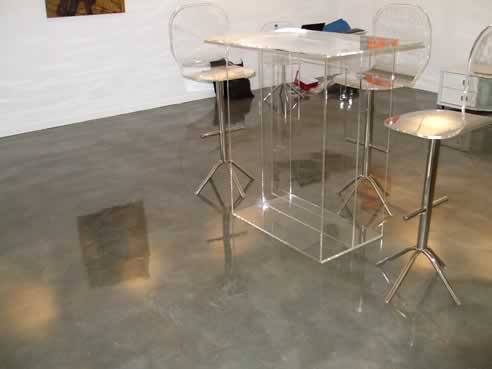 This concrete coating exclusive to AAA Sexy Floors, is translucent aluminium polished concrete. We call it 'polished concrete with a sexy feel'. This optical illusion was created to give the feeling of openness and cleanliness - a cross between glass and a mirror. The aluminium contrasts with the white wall but compliments the contemporary furniture to give this fitout an edge. AAA Sexy Floors are also environmentally friendly with no VOC's and not only looks great you will be helping the environment for our future.
AAA Sexy Floors continuously create designs distinctive to all other wannabe competitors. Evolution is not only welcome, it's the reason AAA Sexy Floors have been market leaders in epoxy design for so long. All floors are created on site and not from a manufacturing plant. This gives customers the freedom and flexibility like no other. Our motto is "you design it we create it on site."