3M™ Scotch-Brite™ industrial tapes from Adept Industrial Solutions

Adept Industrial Solutions are the industrial tape specialist, 3M™ distributor, Stylus International Tapes and Husky Tape Converting and PPC Foams. Suppliers of industrial single-sided tapes and double-sided adhesive tapes, 3M™ abrasives as well as 3M™ electronic products and 3M™ static products.
3M™ are currently celebrating 50 years of Fantastic Finishes with their Scotch-Brite™ brand. In recognition of reaching this milestone there is a fantastic offer available to all customers. When you purchase a minimum of $150 worth of selected 3M Scotch-Brite product* you will receive a FREE 3M™ Scotch-Brite™ Hand Pad Promotional Pack.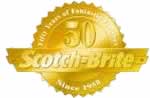 * Qualifying products include;
3M Scotch-Brite light grinding and blending discs.
Clean and strip XT-DC discs.
Surface conditioning Centre-Pin and Roloc discs.
Hand pads.