Stencil concrete from ASC Building Supplies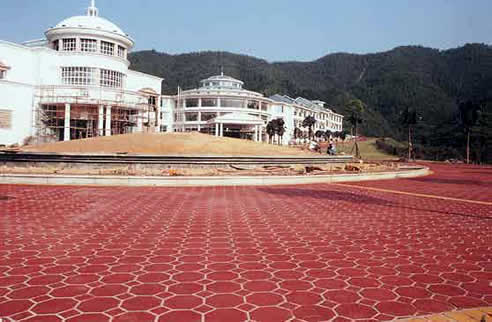 Brick-Crete is a brick looking concrete. Stencilled concrete is basically a 100mm thick reinforced concrete slab (driveway). A specially treated paper stencil is then layed onto the wet concrete surface and floated into the required depth.
Two coats of colour hardener are then applied to the surface and floated between coats. Using different tools to float the second coat will give the brick a unique texture.
The concrete is then left to cure. At the correct stage of curing, the paper stencil is removed revealing the chosen pattern. Residual chips are then removed with a mechanical blower. A concrete sealer is applied to the new surface to protect from staining and enhance colour.
The colour hardeners (topping) come in an exiting range of 29 colours and are streaks ahead of it rivals for strength, durability and lasting effects.
The hardeners, under laboratory testing, have achieved remarkable results within the vicinity of 93 mpa strength (13,950 psi) after 28 days. The results of these products is a finished that is harder and longer lasting than almost any other commonly used flooring surface, including plain concrete, tile and real brick itself.
Advantages
Exceptionally hard wearing surface.
No more weeds.
Cost effective.
Exciting colours to beautify your project.
A finish that is stronger than concrete itself.
Slip resistant.
Non fading colours.