LED Turbostrip from Superlight Australia - worlds brightest flexible
LED strip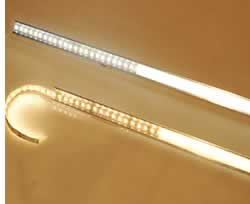 LED Turbostrip is exclusive to Superlight! This is the world's highest output flexible LED strip. The products incorporates the latest SMD LED technology and is suitable for any high-output linear lighting application. LED Turbostrip provides smooth light output, and it's discrete dimension makes it suitable for all concealed lighting applications including joinery lighting, cove lighting, under-cabinet lighting, display case lighting, cove lighting, restaurant & bar lighting, residential strip-lighting etc.
The world's brightest flexible LED ribbon.
Warm white or cool white.
Smooth & even light output.
Includes 3M mounting tape.
Can be cut & rejoined every 3 LEDs.
Superlight can manufacture any required length.