Waterhousea Floribunda plants from Downes Wholesale Nursery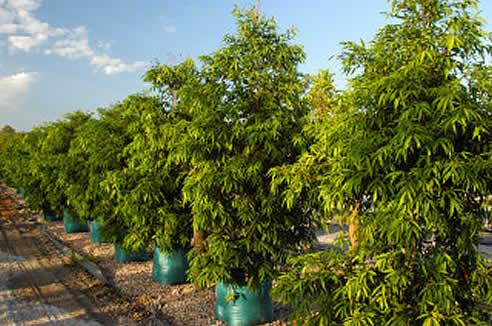 This improved variety of Waterhousea floribunda bred by Downes Wholesale Nursery features a beautiful weeping habit with gorgeous lush green new growth and an elegant ripple in the leaf.
Waterhousea floribunda sweeper is a much denser form, making it the ideal plant for a large screen. Waterhousea Sweeper also makes a stunning street tree and feature plant performing well in sites like WestPoint Shopping Centre, Blacktown, where large specimens have been used for pavement planting creating a lovely softening effect in a harsh, concrete environment.
Waterhousea floribunda Sweeper can also be seen at Mirvac's Mornington Estate, Holsworthy, where it has been effectively used for street trees and screening. Waterhousea Sweeper grows to a height of 10m x 5 - 8m wide. It will grow in full sun to part shade and has clusters of lovely white flowers in summer. It will also tolerate light frosts in cool climates.