Grip Guard non-slip treatments - safety for floors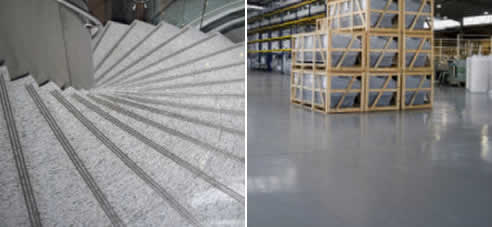 Architects and most property owners are aware of their legal responsibility to provide safe, non-slip floor surfaces. Grip Guard non-slip treatment allows architects, builders, and property owners to choose floor surfaces based on aesthetics rather than their inherent slip resistance. The non-slip treatment microscopically modifies floor surfaces to raise their coefficient of friction to a safe level without any change in appearance.
Grip Guard non-slip treatment is not a coating that will wear away over time. Instead, the treatment alters the microscopic pore structure of the tile or stone to reduce the chances of a pedestrian aquaplaning across the surface - a major cause of slip and fall injuries.
Grip Guard also supplies and installs a wide range of floor safety products including non-slip safety stair nosings for the residential, commercial and industrial sectors. All Grip Guard stair nosings meet or exceed Australian Standards as well as the Building Code of Australia.
In addition to non-slip stair nosings, Grip Guard provides a comprehensive range of tactiles for the visually impaired including;
SureSteel ® stainless steel discrete tactiles.
PolyStud® plastic discrete tactiles.
PolyPad® polymeric retrofit tactiles.
Cobbletac® porcelain tactiles.
Floor safety on ramped areas can be ensured with Fordex® marine grade safety flooring. Its diamond shaped nodules allow water to be channeled off the floor surface dramatically decreasing the chance of slip and fall injuries.
Grip Guard non-slip tapes are ideal for those difficult to treat floor surfaces that require added slip resistance. Aluminium conformable tape is particularly useful on uneven surfaces such as checker. AquaSafe non-slip tapes are ideal for wet areas or food preparation areas where ease of cleaning is paramount.
For floor safety advice, products and installations, contact your local Grip Guard operator. Grip Guard operators are available to provide obligation free demonstrations and quotes throughout Australia in Victoria (Melbourne), New South Wales (Sydney and Newcastle), South Australia (Adelaide), Western Australia (Perth and Bunbury), Queensland (Brisbane), Darwin (NT) and Tasmania as well as internationally.