Floating shade sails from Mulders over garden beds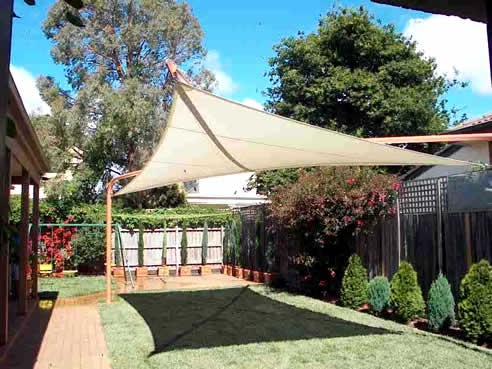 Mulders innovative two pole shade sail structure keeps disruption to favourite flower beds or costly foundations to a minimum. Using only two supporting posts instead of the traditional four, the sail 'floats' over garden or deck areas. Less posts means less need to dig disruptive footings plus less obstruction for homeowners wanting to make the most of their outdoor space.
For concrete surfaces which are sufficiently re-enforced, no holes need to be dug at all, the sail's special footing plate can be fixed directly to drilled holes in the concrete. This type of fixing is ideal for swimming pools or parking spaces with concrete surrounds.
Less intrusive than a standard shade sail, Mulders free standing design is ideal for gardens and deck areas as well. The sail itself uses a central cross-piece supporting structure fixed on just two opposite corners of the sail. The sail 'floats' over nearby walls making it easy to position. There is no need to use a weight bearing fixing on a roof or external wall, placing no stress on existing structures. For solid construction and durable tensioning, each supporting post had a large diameter.
A correctly positioned shade sail can block out up to 95% of the suns rays and cut heat levels down dramatically. Mulders use high quality shade membranes which are UV resistant, able to provide superb protection from sun and wind. Sails can also be waterproof doubling up as a winter canopy. Supporting posts are made from hot dipped galvanized steel, resistant to rain, salt corrosion and rust.
These creative shade sail solutions provide maximum shade cover and colours can be selected to complement the surroundings. Mulders website www.mulders.com.au includes a photo gallery of installations and examples can be seen at their Melbourne showroom.