JDN Profi air hoists from Pacific Hoists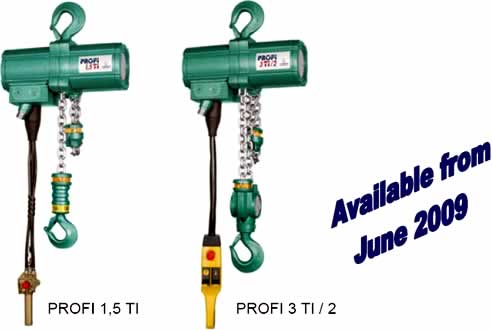 JDN Air Hoists PROFI 1, 5 TI and PROFI 3 TI / 2 complete the existing PROFI range. According to your demands you can thus choose the right hoist for your special application.
Standard Features;
Air Pressure Range: 4 bar up to 6 bar
Whether you have an existing air pressure of 4 bar, 6 bar or a pressure within this range: The PROFIs are working safely and reliable over the whole pressure range.
Very Sensitive Control
The rope and FI control allow very sensitive regulation of the lifting and lowering speeds. Your advantage for smooth start and stop. Alternatively we offer the robust E control.
Very Reliable
Proven in long-term tests. JDN Air Hoists PROFI fulfill the required 480 hours with full load without any troubles. To show you the strength: This corresponds to 19.200 load cycles at 3m HOL with PROFI 3 TI / 2.
Lube-Free Operation
As all JDN Air Hoists the new PROFI require no additional motor lubrication for a period of 250 operating hours.