Timbercrete fire safe houses and bunkers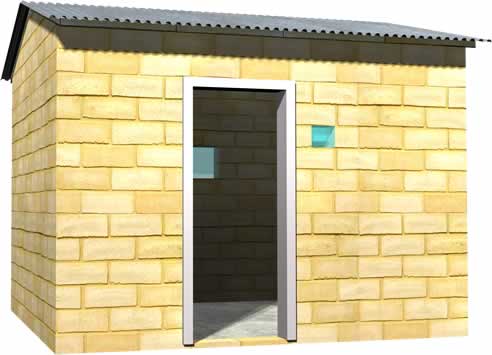 In response to the recent devastating bushfires in Victoria, as well as possible future fires in other areas, Timbercrete has now launched a fire bunker or safety house constructed from arguably Australia's most fire resistant building product - "Timbercrete."
The Timbercrete team is committed to finding a practical solution to protect Australia's most precious and valuable assets - it's people.
To this end we are pleased to announce a tangible and affordable solution to help protect and safeguard human life against possible future fire devastation.
Why Timbercrete?
Timbercrete is a remarkable, award-winning and environmentally friendly building product. Timbercrete was invented in Australia, is Australian owned and manufactured. Patent protection has been granted in most of the world's population while in other countries the patent is still pending.
This award-winning building product boasts the highest possible fire rating, achieving an outstanding Fire Resistant Level (FRL) of 240/240/240 during tests conducted on a single skin wall (190mm to 200mm thick). CSIRO Fire tests on Timbercrete were conducted in accordance with Australian standard 1530 and part 4-1997. Test reference number FSV 1094. (For a full test report including photos refer to the website www.timbercrete.com.au).
The test was carried out to determine Structural Adequacy, Integrity and Insulation.
Structural Adequacy and Integrity
Most walls fail in these categories because they buckle severely flexing out as far as 150mm before suddenly failing. A careful study of the deflection graph shows that the 3m high Timbercrete wall only deflected 4mm towards the furnace in the first 30 minutes. Then the wall corrected itself so that at the end of 240 minutes it had only moved 1mm from its original position. This ability to remain straight assists in its load-bearing capabilities.
Fantastic Insulation
With regard to the amazing insulating properties of Timbercrete, the ambient temperature at the beginning of the fire test was 30°. The average temperature of the wall being exposed to the flames (furnace temperature) was close to 1200°C. However the other side of the Timbercrete wall that was not exposed to direct flame eventually reached only 75° after 4 hours! (Remember a bushfire front may pass in less than 30 mins). This means the rise in temperature of the Timbercrete wall was only 45°C above the ambient air temperature even after 4 hours! With this level of outstanding performance, it stands to reason that Timbercrete is ideally suited for a fire resistant bunker.
Fire Resistant Bunker and Safe House Basic Specification and Features
The bunker measures 3.6m long by 3.2m wide.
Insulated metal fire resistant door - RFL -/240/30.
Fire resistant glass window. Triple glazed with the outside pane being heat proof ceramic glass, middle pane heat proof toughened glass and the inside pane is also heat proof toughened glass. Each pane is 5mm thick with a 50mm cavity between each layer to maximise insulation value.
Fire resistant Timbercrete is also used on the roof. This is a similar thickness of product that has been tested as a wall, (190 mm thick). This added thickness is to maximise the overall fireproof nature of the structure.
A Fire resistant spy hole is located near the door so that occupants can make a safe exit. The spy hole measures 210mm wide 180mm high and is constructed of triple pane fire rated glass as per the window.
Each bunker is equipped with an air tank (similar to what fire-fighters use) that can be turned on as the fire storm approaches. This will slightly pressurise the bunker forcing excess cooler air out around the small gaps surrounding the fire resistant door. Pressurising the inside of the bunker prevents smoke or harmful gases entering the fire safe bunker. The tank will be sufficient to provide fresh air for all the occupants during the danger period of the fire storm.
The bunker should be installed close to every house that is being rebuilt. These bunkers may also be used in other applications as a multipurpose facility. When we speak of a "safe house," because of the design of the structure, it will not only be safe against fire but against theft. This makes it the ideal wine cellar, garden tool shed etc. It could even be used as a horse stable or a safe house for other loved animals.
While Timbercrete's main focus is to provide a product that will safeguard human life, we believe it is worth considering our product as people plan to build or rebuild their homes in fire prone areas.
The bunker will be sold in kit form. Visit the Timbercrete website under the section called "contact us" to find your closest licensed Timbercrete manufacturer.