Curved Platform Stairlifts from Platform Lift Company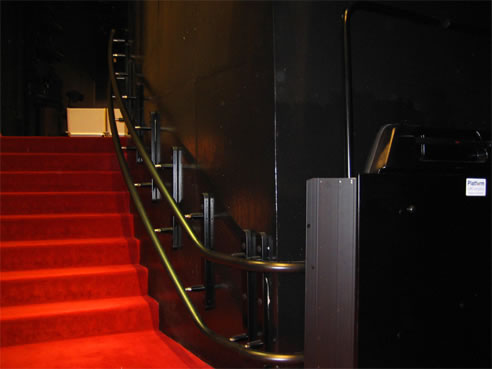 Sydney Opera House
Two Cama C6 curved platform stairlifts were installed by the Platform Lift Company at the Sydney Opera House.
Platform Lift Company were commissioned to install two Cama C6 curved platform stairlifts for the Sydney Opera House.
The objective was to create step-free access for the Playhouse Theatre in line with original architect, the late Jorn Utzons' Design Principles (a guide for any future build changes), from the foyer for the first time.
It just happens that Cama is a Danish company and given the Opera House's international stature and its Danish links, (the designer Jørn Utzon) the owner of Cama, Uffe Mayntzhusen flew to Sydney to assist in the design and installation of the lifts.
For minimum disruption, the installation took place at night, as the theatre was in use during the day and evening.
To negotiate the existing building structure specialist engineering was required in addition to a week of on-site modifications. This was due to a sloping floor and radiused wall to which the rail was to be fitted.

NSW:
02 9932 3600
VIC:
03 8651 2999
NSW: Balgowlah Business Park, Unit 1, 28-34 Roseberry Street, Balgowlah NSW 2093
VIC: 43 Bakehouse Road, Kensington, VIC, 3031