Electronic Cabinet Lock from Keywatch Systems QLD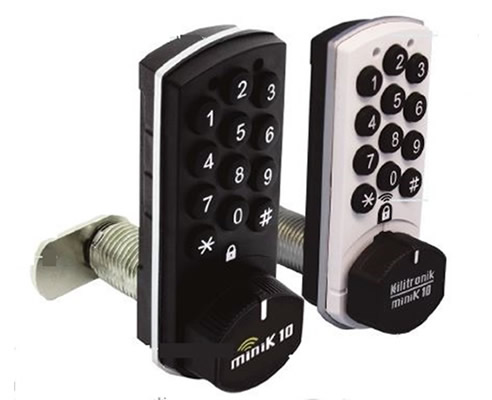 MiniK10 Digital Locker Lock
The KSQ-MiniK10 is the most affordable and most flexible electronic cabinet and locker lock on the market. It features easy retrofit for replacing existing key operated cam locks and a minimum of setup and labour for new installations.
MiniK10 is keyless and completely wireless, powered by a tiny 3V Lithium battery that can last up to 10-years. It is fully programmable from the keypad for either One-Time-Use or Permanent Use and features a Master Programming and Override Code as well as a Supervisor Override Code for opening the lock when the user code is forgotten or unknown.
The MiniK10 range includes the MiniK10-NFC (Near Field Communication) that enables administrators with wireless programming and opening of locks via our free Hopinlock App and any Android device equipped with NFC technology, MiniK10 range offers the all-in-one solution for Permanent User access or One-Time-Use access in sports clubs, gyms, fitness centres, employee lockers, or private lockers and cabinets in corporate offices.
The range is available in a Black body with black/white keypad or White body with black/white keypad for vertical and horizontal.