HitchSafe Tow Bar Key Safe from Keywatch Systems QLD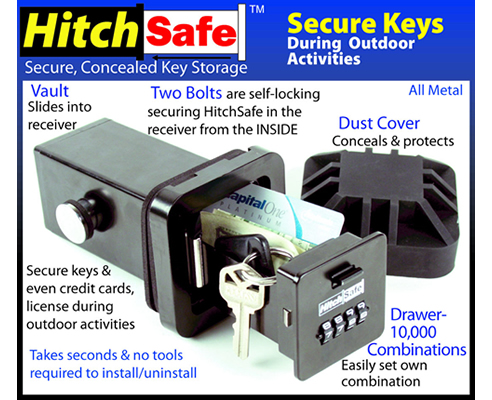 KSQ's HitchSafe
Hitchsafe is a purpose designed key safe for hitch style tow bars. Made from steel construction featuring a secure drawer locked by a dual bolt mechanism and opened only via a 4-wheel combination lock. No keys required and NO tools needed to install or remove. Up to 10,000 possible Combinations.
Chrome plated steel hitch pins lock from the inside of your tow hitch receiver and can only be removed when the combination drawer is removed. Quick easy install and remove when hitch is needed for tow ball. Hitchsafe utilises the receiver and keeps it protected when not in use.
The robust and attractive dust cover serves to protect the Hitchsafe and also discretely conceals it from being conspicuous. Supplied with rubber spacers to ensure a snug fit against hitch receiver and resistant to dust and grime.
Hitchsafe is a secure vault drawer for holding your vehicle keys, licence, cash or credit cards when you are participating in outdoor activities such as surfing, swimming, boating, camping, hiking, fishing etc. It utilises the receiver cavity of the standard hitch type tow bars and installs in less than a couple of minutes. No tools required, simple, efficient and effective.