Lay-in Acoustic Ceiling Tiles from Decor Systems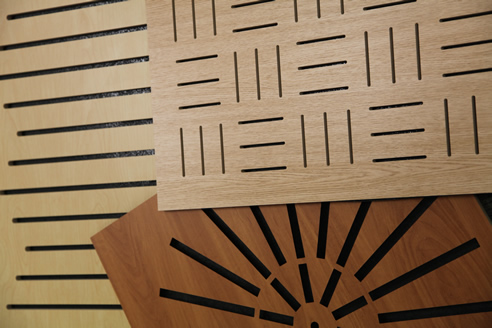 DecorTile. Your prestige, high quality acoustic ceiling for special applications where decorative aesthetics are required.
DecorTile is a distinctive, lay-in acoustic ceiling tile that's versatile, maintenance-free and with the same outstanding sound absorbing performance of DecorZen.
DecorTile modules are available in sizes1200mm x 600mm, 600mm x 600mm and 1200mm x 1200mm. Use them in any exposed suspension grid system, including slimline systems. Lay-in configuration is quick to fix in place, saving you time and reducing your installation costs. DecorTile panels will incorporate any modular lighting and ventilation systems.
Combined with DecorSorb bonded acoustic backing, they deliver the same high NRC rating (up to 0.8) as the other products in the Decor range. And, because they don't require extra, bulky insulation, you get the extra benefit of greater plenum access.
Aesthetically, DecorTile is delivered pre-finished in timber veneer, metallic, marble or stone treatments. Or you can specify DecorClear polyurethane coating factory-applied to natural timber veneers to perfectly match your exact design specifications. You'll never need to paint on-site again.
Choose from 52 timber veneers and 20 DecorImage finishes and all standard perforation patterns from the DecorPly range.