Monier Cambridge Hewn Stone Roof Tile from Lacey Roofing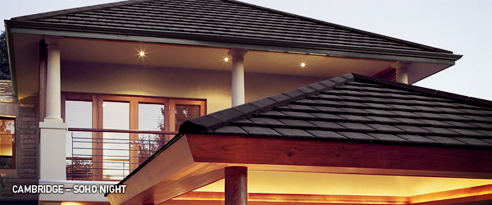 With its 'hewn stone' finish Monier's Cambridge is the ideal choice for the discerning home owner. Its unique appearance complements both contemporary and classically styled architecture, whilst conveying a level of sophistication that will be the envy of your neighbours.
Impervious to frost and ice
Monier roof tiles are ideal for those living in colder climates. They are impervious to the effects of frost and ice, and will never crack or warp, no matter how cold it gets.
Provides thermal insulation
Monier roof tiles keep you comfortable in your home all year round, while helping save money and the environment through energy savings.
Will not rust, warp or corrode
Monier's concrete roof tiles will not rust, warp or corrode, a problem with other roofing materials.
Provides acoustic insulation
Monier roof tiles assist in keeping unwanted noise out. Their advanced insulation properties mean that the only noise in your home will be the noise created by you and your family.