Supreme Polymer Drainage System for Road Upgrade from Hydro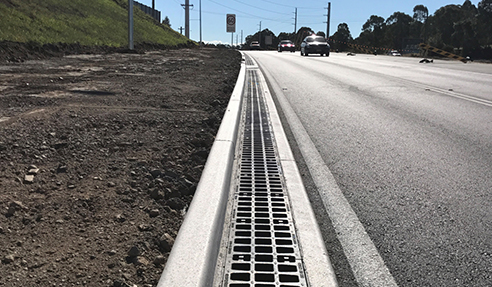 Hydro are proud to present their supreme polymer drainage system as designed and manufactured by their water management experts and, a long-standing partner, MEA. Featuring an inherent strength, the polymer drainage system is a popular solution for roads with daily high wheel loads.
Supreme Polymer Drainage System for Northern Road Upgrade, Sydney
The Northern Road Upgrade project is significant to the development of Sydney's growing traffic demands. It is designed to unite population centres separated by distance, and enable safer, integrated transport solutions with connections to motorways and other newly developed areas. To ensure maximum safety for motorists, the project calls for a heavy-duty and highly reliable drainage solution.
Hydro was awarded the contract with Georgiou Group for the supply of almost 7,000 meters of drainage products for Stage 1 of the Northern Road Upgrade project. The first stage upgraded approximately 3.5 kilometres of the Northern Road between Old Northern Road at Narellan to Peter Brock Drive at Oran Park with a budget of $1.6 billion and serving around 15,000 motorists on a daily basis.
With a project brief that emphasizes the safety of the motorists, Hydro Construction Products supplied their supreme polymer drainage system with a cast iron edge rail and 300mm clear opening width. The 300mm CO Cast Iron Edge Rail System or C300 is a popular choice because of its ability to resist the growth of chemically aggressive substances. Made with a polymer, C300 is lightweight hence is easy to transport and install.
The supreme polymer drainage system installed in the Northern Road Upgrade incorporated a channel with vertical connection facilities plus necessary accessories such as locks, end caps, and inline sumps.
The drainage system is also reinforced with Ductile Iron High-Flow Profix Grates, improving safety for motorists through a reliable single pin 'Profix'. This grate ensures that there are no moving parts in the drainage system even under extreme conditions. Hydro also promises large aperture slots that prevent flood risk.
Head on over to www.hydrocp.com.au for more information on the supreme polymer drainage system for the Northern Road upgrade.