NEWS ARTICLE ARCHIVES
Timber acoustic doors from Soundblock Solutions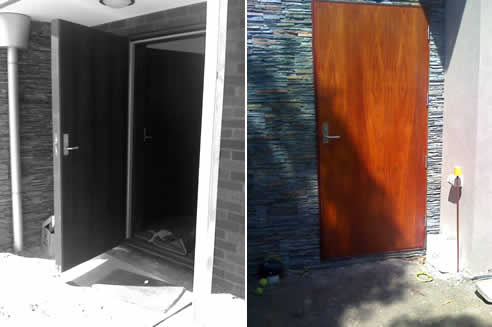 Our timber acoustic doors are manufactured with either MDF or various timber veneer finishes complete with door jamb for maximum noise reduction and acoustic performance. All doors come with a full set of acoustic seals and hinges. Door furniture is additional and can be customised to suit your needs. Depending on the level of acoustic performance required of the wall/room overall, we can offer five acoustic doors as shown below.
The Hushzone - Hushzone 34 (Rw34), Hushzone 37 (Rw37)
A performance timber door suitable for internal use where superior performance to a solid core door is required. Available in both single and double doors.
The Musiczone - Musiczone 40 (RW40)
All timber doors specially developed as a higher performance door to the Hushzone. Superior components including hinges, locks and seals for matched performance.
The Studiozone - Studiozone 45 (RW45) and Studiozone 48 (RW48)
A high performance door designed to meet the demands of studio type applications. The seals, hinges and hardware selected to meet the performance requirements of this door.