Waterproof Shade Structures Victoria from Mulders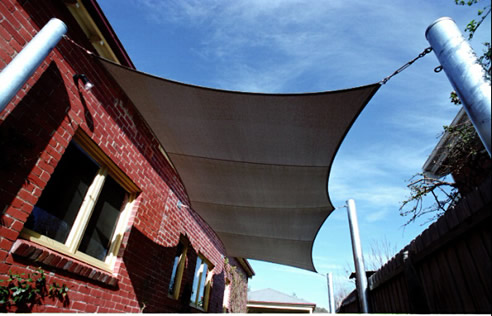 Waterproof Shade structures double up for sun and rain protection.
Mulders rain proof shade offers a sustainable alternative to solid structures. Functional and aesthetically pleasing, shades sails can be made out of weatherproof materials as well as shade cloth.
Ideal for BBQ areas, outdoor decks, gardens and car ports, construction of a waterproof shade sails is usually less than a hard standing structure. For competent D.I.Y'ers self installed shade cloths offer an extremely low cost solution.
When you stand underneath a shade sail you feel like you are in the open. Commercial grade materials are usually guaranteed for 5-10 years and properly designed sails last a long time
Natural looking they offer a permanent alternative to umbrellas and temporary awnings as well as parasols and roofed areas. One of the problems with parasols is that you have to keep putting them away. If you don't then more often than not they'll start to fade, and even rot. Shade sails remove this worry and UV stabilized materials and non rusting fixings make them a long term proposition.
Mulders solid PVC sails are fully waterproof as well as UV proof. Our commercial grade PVC lasts for years and bold or neutral colours are available.
Triangular sails can be overlapped to give an impactful almost sculptural look. Rectangular shapes give more shade cover than triangular designs and are more cost effective.
Mulders offer a professional design and installation service for homes and commercial projects. DIY sails can be manufactured in all shapes and sizes in premium quality materials. See their website http://www.mulders.com.au for tips on how to measure for shade, available colours and a photo gallery.