Green Buildings and Sustainable Technology from Schindler Lifts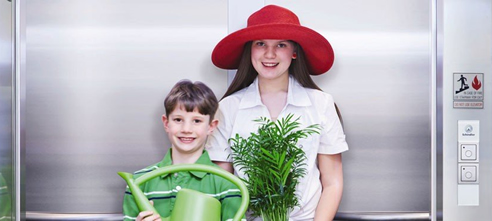 Urban centers cause around 80% of the world's pollution, and buildings consume 40% of world energy. Making both greener is essential to conserving a livable planet.
We here at Schindler contribute to making urban centers more sustainable with energy and resource-conserving mobility solutions. Our ultimate goal is zero net energy use, combined with high-quality mobility. We share the same goal - greener buildings.
Our approach to environmental issues mirrors the way it approaches business overall: we systematically analyse our activities and focus on areas where we can have maximum impact.
Schindler has prepared an extensive amount of information regarding its green initiatives including topics such as ecological foot print, site consumption, vehicle fleet, product ecology and strategic suppliers.
Schindler is also a Silver partner in the NSW Government's Office of Environment and Heritage Sustainability Advantage Program
To learn more about Schindler's Corporate Social Responsibility initiatives, please visit the following sites:
Schindler Corporate Citizenship Website
Schindler Green Website