Wheelchair Stair Lifts from Platform Lift Company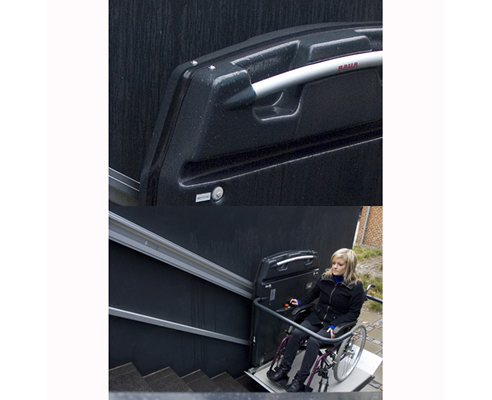 If you are looking for a solution for transporting 1 person in a wheelchair or 1 person in the sitting position, to go up the stairs of a premises, then look no further the C7 wheel chair stair lifts.
The C7 Wheelchair stair lifts is the model that is designed to go on stairs that are straight and go in one direction.
The C7 lifts are great for existing and new buildings as minimum building works are required to have the lift installed and they can fold up so they take up minimum area of a building. Once used they can fold up against the wall and only sit 300mm off the wall. They can be installed on stairs that are inside or outside the building.
We usually require a solid wall at one side of the stairs which can be concrete, core filled block work, double brick, steel or timber. If the wall is in steel or timber the wall must be able to take to loads of the lift.
If there is no support wall at either side of the stairs, the lift can be supported off steel posts at an additional cost. The steel posts need to be fixed into concrete stairs in most cases, but other materials may be used providing they can handle the lift loads.

NSW:
02 9932 3600
VIC:
03 8651 2999
NSW: Balgowlah Business Park, Unit 1, 28-34 Roseberry Street, Balgowlah NSW 2093
VIC: 43 Bakehouse Road, Kensington, VIC, 3031