Acoustic Linings for Brisbane Airport Virgin Terminal by Decor Systems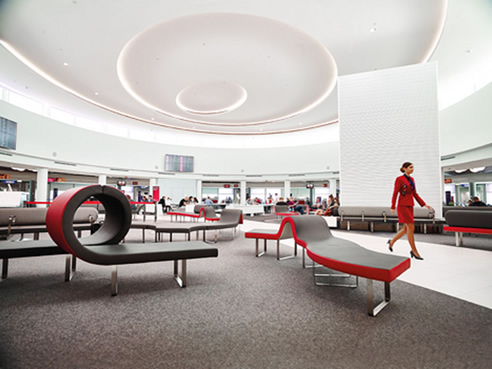 DECORLINI - READY FOR TAKE OFF!
Brisbane Airport has been undergoing transformational regeneration in recent years. Enrichment of the customer experience has been the overriding objective.
The new Virgin Australia Departures Plaza features a marvellous selection of new innovations which heretofore have never been seen in such an area.
Decor Systems was thrilled to contribute to the character of this zone. DecorLini Acoustic Linings are featured as decorative wall linings at key points throughout the departures area. The benefits for the designer and the airline encompassed:
DecorLini is tough!
A hard-wearing, robust panel was a pre-requisite for this high impact people thoroughfare and DecorLini fulfilled this to a tee.
Acoustics.
Due to potentially high volumes of noise in such a congested zone, sound control was imperative. Again, strategic placement of DecorLini Panels has guaranteed highly effective sound minimisation.