Installing Pet Doors to Security Screen Doors from Seconline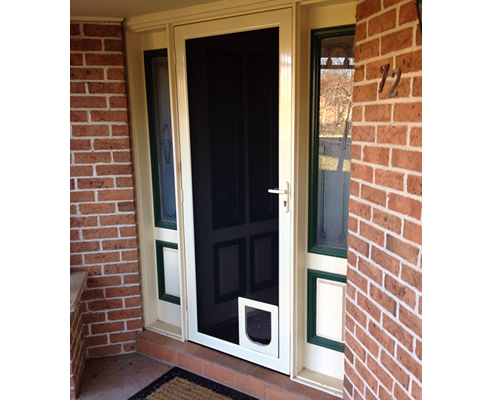 Australian's love their pets and many like their pets to have access to their homes without the annoyance of them scratching at the door. Pet doors can be installed into all Seconline Security doors, 7mm Diamond doors and, upon request, into security window screens and 7mm Diamond screens.
Security doors in Australia must pass certain tests otherwise they have to be described as barrier screens or safety screens. To have the classification of a security door then tests such as impact tests, knife shear tests and other such tests must be passed and certified by an independent certifier. All Seconline security doors and security screens have been independently tested and have successful documented test results. The installation of a pet door would be seen as a compromise to this and therefore would render the door perhaps vulnerable and no longer able to be classified as a security door.
PETWAY pet doors are available in a range of colours and in sizes small, medium and large. They can be purchased in addition to your door for factory installation or as a singular product for DIY installation in your existing door from our Extras page.