Concealed RFID Cabinet Locks from KSQ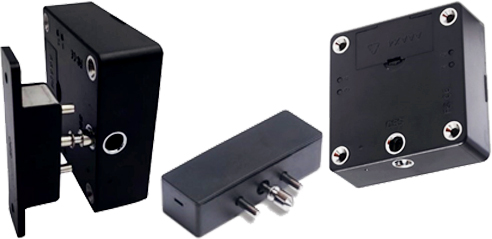 The 'new' generation of electronic and digital RFID proves that furniture locks can be invisible, secure, and easy to use. The invisible KSQ-80ICR lock is attached to the inside or rear of a cupboard and using a RFID card, opens the lock through up to 25mm of wood or glass.
The KSQ-80ICR invisible lock can be installed on just about anything you need to secure, such as lockers, drawers, glass cabinets, shop fixtures, and doors. It features both single and multiple user mode, with the ability to enrol up to 50 RFID/Mifare Cards or FOB's via a battery powered wireless connection. Fully programable using RFID/Mifare Cards makes the lock system easy to use and maintain without a PC or software.
Electronic locking mechanism is attached to the inside or rear of a cabinet or drawer and opened with the RFID key card.
RFID key card opens the lock through a thickness of up to 30mm of wood, glass or Laminex materials.
Easy to program the lock with the pre-programed parameters, just select the mode you need with no PC or software required.
Ideal for retail stores, offices, trade shows, exhibitions, and commercial environments.
For more information, visit ksq.com.au.